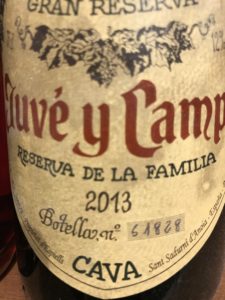 Juvé y Camps Reserva De La Familia 2013 Cava
Juvé y Camps has been a family run company for three generations and has garnered an international reputation. Over two hundred years ago, Joan Juvé Mir, a bold and enterprising vine grower laid the foundations of what would become the family firm. He began the task which was carried on by his son, Antoni Juvé Escaiola, who, amongst other challenges, had to confront the effects of the terrible phylloxera plague. Advocating replanting, with other leading figures of the Penedes, he led a drive to restore the vineyards and to rebuild the wine production of the region. A man respected and loved by his contemporaries, his example encouraged his son, Joan Juvé Baqués, to build the family's first winery. He married Teresa Camps Farré, an exceptional woman and an enthusiastic supporter who inspired her husband to launch, in 1921, the first sparkling wine under the "Juvé" brand. It was made in the underground cellars beneath the family home in San Sadurní d'Anoia.
Made from Macabeu, Xarel·lo and Parellada grapes, bright pale gold with a frothy creamy mousse, small plentiful bubbles with a steady stream. Aromas of apple and citrus with toasty notes. Well integrated, nice mouthfeel, elegant long finish. Great value as an exceptional alternative to French Champagne.
Cheers!