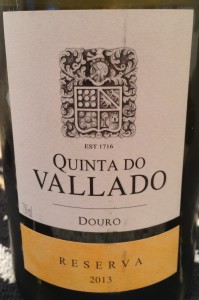 Quinta do Vallado 2013 Douro Reserva Branco
Quinta do Vallado, established in 1716, is one of the oldest and most famous "Quintas" in the Douro Valley. It once belonged to the legendary Dona Antónia Adelaide Ferreira, and still belongs to her descendents. It lies on both banks of the Corgo River, a tributary of the Douro river, near its mouth, close to the town of Peso da Régua. For almost 200 years, Quinta do Vallado´s main activity was the production of Porto wines that were commercialized by the Ferreira Port House (belonging to the Ferreira family). Following Dona Antónia Adelaide Ferreira´s great achievement, her Great grand-son Jorge Viterbo Ferreira, and his son Jorge Cabral Ferreira were the main architects of the further development of the Quinta´s vineyards and winery.
Moving from the centuries-old tradition of selling the farm´s production to the Ferreira Port wine House, in 1993, under the direction of Guilherme Álvares Ribeiro and his wife Maria Antónia Ferreira, the company decided to extend the business towards the production, bottling and marketing of own-label wines, with the objective of increasing the production of high quality grape varieties. The construction of the new winery and barriques cellar, started in 2008 and concluded in the fall of 2009, combines state of the art technology with a high quality architecture project, making it one of the places to visit in the Douro valley.
Opening a bottle of this real Gem, comprised of Gouveio/Verdelho (35%), Arinto (30%), Viosinho (25%) and Rabigato (10%) grape varieties, I noticed complex gentle aromas of stone fruits with earthy mineral notes and slight floral undertones. The palate revealed a well-balanced wine with good acidity with refined and integrated oak. Flavors of citrus and dried fruits along with spicy notes came forth in this full-bodied white wine. The wine concluded with a long crisp and fresh finish. Very enjoyable! I read about 50 cases of the 2012 vintage were exported to the US, I don't believe any of the 2013 made it over.  My colleague, Amandio, a native of Portugal, was at it again and brought this treasure back from another trip back home. Muito Grato!
Cheers!