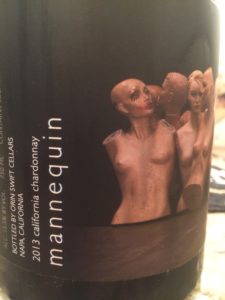 Orin Swift Mannequin 2013 Chardonnay
The history of Orin Swift Cellars dates back to 1995 when on a lark, David Swift Phinney took a friend up on an offer and went to Florence, Italy to spend a semester "studying". During that time, he was introduced to wine, how it was made, and got hooked. A few more years of university led to graduation and eventually a job at Robert Mondavi Winery in 1997 as a temporary harvest worker. Deciding that if he was going to work this hard, it would eventually have to be for himself, so in 1998 he founded Orin Swift Cellars; Orin is his father's middle name and Swift is his mother's maiden name. With two tons of zinfandel and not much else, he spent the next decade making wine for others as well as himself and grew the company into a multinational brand that now includes 300 acres of vineyards in the Southwest of France. This international ambition has led to projects in Spain, Italy, Corsica, Argentina and other locations around the globe. Despite the growth, Orin Swift Cellars continues to operate as a small, passionate team of friends and family dedicated to making great wine.
The wine is a blend of 76% Chardonnay, 8% Viognier, 6% Marsanne, 5% Grenache Blanc, 3% Muscat, and 2% Roussanne, aged in 40% new French oak for 11 months. The grapes were sourced from several northern California regions including Napa Carneros and Sonoma Coast. Deep straw yellow with aromas of tropical fruits and sweet spice. The palate shows flavors of pineapple, melon, apple and hints of lemon rind with complex spice. The wine is well balanced with integrated oak, crisp, lively acidity and ends with a long finish. Very nice alternative to the 100% California Chardonnay!
Cheers!