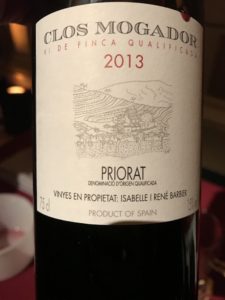 Clos Mogador Priorat 2013
In an arid and magical place, French monks discovered "Eden's Ladder", Escala Dei (12th century). It was here that they made the Lord's wine. In this very same arid place, 800 years later, a young French woman and a Catalan man, Isabelle and René Barbier, found the place of their dreams, Clos Mogador. René Barbier led the original Priorat movement, proving that exciting and unique fine wines could be made in this forgotten corner of Spanish Catalonia. At Clos Mogador, he nursed back to life abandoned old vineyards planted on steep hillsides, where the ancient Grenache and Carignan vines had learned to struggle against the aridity by sending roots 25 metres down in search of water and nutrients, yielding less than 10 hectolitres per hectare of intense, concentrated and complex juice. The estate became firmly established as the number one address in the appellation, with a bulging press book to back this claim.
I recently went to a Private Equity Wine Tasting Gala, where over 100 top shelf wines were offered, too many to taste as they were all exceptional! Deep red, almost purple with complex fruit and spice aromas. A blend of 49% Garnaxas, 25% Cariñena,10% Cabernet Sauvignon and 16% Syrah, aged for 21 month in oak casks. On the palate intense blueberry and blackberry flavors with gentle complex spice and firm soft tannins. Needs decanting, finish lingered with earthy mineral characteristics. Nice! Tasting Sample.
Cheers!