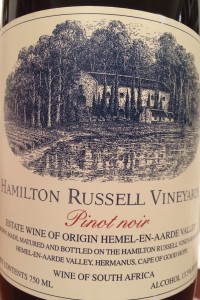 Hamilton Russell Vineyards 2011 Pinot Noir
Hamilton Russell Vineyards is one of the most southerly wine estates in Africa and one of the closest to the sea and is located in the beautiful, cool, maritime Hemel-en-Aarde Valley appellation, just behind the old fishing village of Hermanus.  The estate specializes in producing highly individual, terroir-driven Pinot Noir and Chardonnay.  Founder, Tim Hamilton Russell purchased the undeveloped 170 hectare property in 1975.  His son, Anthony, purchasing property in 1994, focused their efforts on Pinot Noir and Chardonnay only and registered Hamilton Russell Vineyards as an estate, committing to work only with grapes from their terroir.  Extensive soil research initiated in 1994 identified 52 hectares of stony, clay-rich, shale-derived soil as optimal for their signature style and all plantings have now been limited to this soil type.  Anthony, with winemaker Hannes Storm and viticulturist Johan Montgomery, are completely dedicated to expressing the personality of the Hamilton Russell Vineyards terroir in their wines.
South Africa has a long association with wine, going back nearly 400 years.  Wine quickly became a major export for the colony, and by the end of the First World War the growers in the area around Cape Town were flourishing. The South African Wine Farmers Association was founded in 1930, with assistance from British wine agents.  During the 1970s, the government introduced Wine of Origin labels, which located each of the farms within a series of wine wards.  All of the wine given 'single vineyard' status must come from within that ward.  Groups of wards in a particular area are called districts, and districts are described as belonging to particular regions.  These labels help wine tasters to understand where each particular wine has been grown and produced.
Pouring a glass of this gem, I noticed it was lighter in color than other Pinot's I have tasted.  The aromas were quite enticing and somewhat fragrant with bits of cherry, raspberry and sweet spice.  On the palate the wine transforms into an array of layered flavors with complexity of fruit, spice and an oaky mineral finish.  This Pinot should be one not to miss and around $45 is a good value for this outstanding wine.
Cheers!