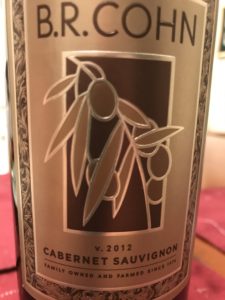 B.R. Cohn 2012 Cabernet Sauvignon Gold Label
Founded by Bruce Cohn in 1984, B.R. Cohn Winery is located in the heart of Sonoma Valley. Bruce Cohn bought the land now known as Olive Hill Estate Vineyards in 1974. The small family operated winery is surrounded by the 90-acre Olive Hill Estate Vineyards, where soils warmed by underground natural hot springs and gentle ocean breezes create a unique microclimate resulting in ideal growing conditions for outstanding Cabernet Sauvignon. This Gold Label offering from founder Bruce Cohn, who (for us older rockers) managed the Doobie Brothers, one of my favorite groups of the 70's. Mr. Cohn, when not managing the Doobie Brothers, was learning all about wine.
Opening a bottle I noticed a deep Ruby color with concentrated aromas of dark fruit, slightly sweet smell, with cedar notes. On the palate flavors of blackberry, cherry and ripe plum, with oak and hints of pepper spice. This Cabernet is a unique blend where 67% of the grapes came from Napa and 33% from Sonoma, and aged in French Oak (50% new). Soft tannins, lingering finish ending with cedar spice notes. Drink now for real enjoyment.
Cheers!