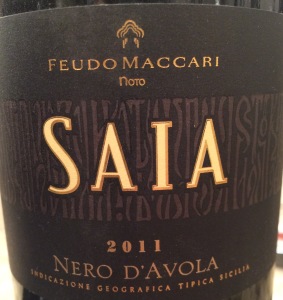 Feudo Maccari Saia 2011 Nero D'Avola
Antonio Moretti, owner of Tenuta Sette Ponti and Poggio al Lupo in Tuscany, along with his daughter, Monika, established Feudo Maccari in 2000.  This 250-acre estate was assembled from numerous owners and more than 50 separate plots on the southerly hillsides near the town of Noto, Sicily.  Vines existed in some parcels, and others were planted to the native Nero d'Avola and other selected red grape varieties.
The wine is a brilliant deep ruby color with aromas of complex red and blue fruits.  The palate shows plenty of fruit, raspberries and blueberries, a hint of dark plum with a touch of exotic spice made with 100% Nero d'Avola grapes.  The wine was full body, had nice acidity with structured tannins.  The wine was aged for 14 months in French oak.  The finish had stronger oak flavors than expected, but shows that aging would benefit this wine.  Nuances of cocoa and smoke filled the lingering finish.
Cheers!