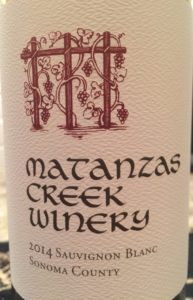 Matanzas Creek Winery 2014 Sauvignon Blanc
Naturally defined by the three mountain peaks that envelop it, Bennett Valley existed for many years in quiet obscurity – bountifully sustaining an agricultural community that had all but forgotten the valley's pre-prohibition vinicultural roots. It wasn't until 1977 with the founding of Matanzas Creek Winery that the area's winemaking potential was once again unearthed. But Matanzas Creek didn't just breathe new life into the area, it helped revolutionize the entire industry and, in the process, put Bennett Valley back on the map. And now, over thirty years after the release of its first vintage, Matanzas Creek stands at the forefront of California viticulture.
Pale-yellow color and fragrant aromas of tropical and citrus fruit with hints of garden spice. This is one of the few Sauvignon Blancs that are barrel-fermented, about 17% French/American oak, which adds a wonderful gentle toasty flavor. The palate shows fresh fruit flavors of peach, nectarine, lemon, and crisp apple, with the subtle earthy mineral tones. The wine has 6% Sémillon adding a smooth quality, with lively acidity on a medium length finish. Good value!
Cheers!