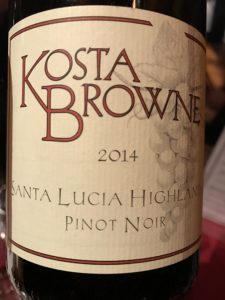 Kosta Browne Santa Lucia Highlands Pinot Noir 2014
Located on the eastern slopes of the coastal range that shelters the fertile Salinas Valley from Big Sur, this appellation is relatively new with the first vineyards being developed only in the 1970's. Surprisingly, these central coast slopes are generally cooler than the Russian River Valley, largely as a result of the ocean breezes and fog coming in from Monterey Bay. The vineyards are sheltered by the coastal peaks that limit rainfall. Pinot Noir excels on these hillsides. The five vineyards that help Kosta Browne make fine wines are farmed by two incredible grape growing families – Pisoni and Franscioni, where their friendship goes back three generations.
I recently went to a Private Equity Wine Tasting Gala and they had 8 Kosta Browne wine to taste, Wow! Hard to pick a best as they were all good, but the Santa Lucia Highlands 2014 stood out. Aged for 15 months in French Oak (49% new), with aromas of dried red fruits, tangy citrus and floral notes. On the palate raspberry and cherry flavors with interesting spice and savory dusty tannins. The finish is long, ending with earthy mineral characteristics. Tasting Sample.
Cheers!