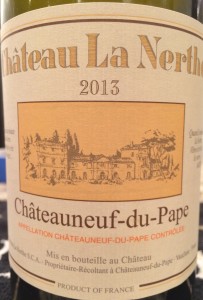 Château La Nerthe 2013 Châteauneuf-Du-Pape Blanc
Château La Nerthe was born in the 12th Century around the time vines were first planted in the stone-strewn soil of Châteauneuf-du-Pape (literally the "Pope's new castle"), the place the pontiffs chose for their summer residence when the papel court relocated to Avignon. The historic domains of Châteauneuf-du-Pape, Château la Nerthe, has always been graced by the attentive care of its successive owners: men of firm conviction, aristocrats, and notable experts on Châteauneuf-du-Pape, Marquis Tulle de Villefranche, Commandant Joseph Ducos and La Famille Richard, have all contributed to the reputation for excellence that La Nerthe has acquired and maintained. The vineyard of the Castle Nerthe represents 92 hectares of the single supporter, certified in organic farming since 1998, when the 13 grape varieties of the appellation are planted. It is about one of the biggest vineyards of Châteauneuf du Pape. The land is there special.  The majority of the vineyard is pebbly with high terraces, combined with clay, lime and loamy sands sprinkled with pebbles rolling down the slopes on the Southern exposure.
Today I have tried their Blanc wine, again. I first tried this in March, like it so much I bought 6 bottles for my cellar so I thought it was time to open another bottle. This wine is a combination of 4 grapes: 40% Grenache Blanc, 40% Roussanne, 10% Clairette and 10% Bourboulenc. Only about 300 cases of this gem was imported to the US so if you are lucky enough to see a bottle, grab it as it will disappear fast. Opening a bottle (be sure not to over chill as you will lose out on all of the complex flavors and aromas going on) I noticed wonderful aromas of green and intense stone fruits with a slight citrus notes (more pronounced since the first time I tried the wine). The palate shows firm fruit, apples, peaches and Asian pear, crisp with good balance of acid, still fresh and lively. The finish, about medium plus in length, leaves with a nutty earthy ending. I met with the wine distributor from Pasternak Wine Imports back in March, who indicated this white wine can be enjoyed now, but if you put it down for a few years, the age will benefit the wine greatly. So far he is right on, as this bottle was better today than 9 months ago! A nice alternative from Chardonnay!
Cheers!