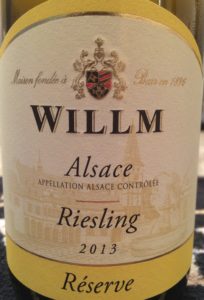 Willm 2013 Riesling Reserve
Founded in 1896 by the Willm Family, Alsace Willm was the first Alsace producer to export wines to the United States after Prohibition. Alsace Willm is located about 20 miles south of Strasbourg in Barr on the Route du Vin d'Alsace, which is the "Wine Road of Alsace". Alsace Willm produces a selection of outstanding Alsace wines, both still and sparkling, as well as some Grand Crus.
The 2013 Reserve Riesling is 100% Riesling that is aged for about 3 months on its lees, with bottling occurring about 10 months after the harvest. Note: "Lees" refers to deposits of dead yeast or residual yeast and other particles that precipitate, or are carried by the action of fining to the bottom of a vat of wine after fermentation and aging. I noticed a pale golden yellow color with aromas of floral, citrus and apricots, very pleasant. The palate transforms the fruit into rich fruit flavors with a mineral tang, allowing the distinctive Riesling flavor to come on the finish, however dry in style, not a sweet Riesling.  A great value and a bargain for a fan of Riesling, an absolute "must" to try this one. Goes great with food! Enjoy!
Cheers!