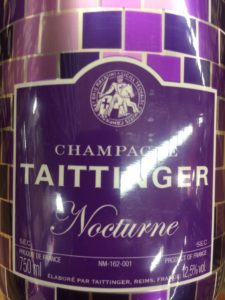 Taittinger Nocturne Champagne
When Pierre Taittinger first discovered the Champagne region, he was a young liaison officer during the first World War. It was thanks to his passion for wine and gastronomy that he returned several years later and, with his brother-in-law, invested all his energy into the development of a burgeoning champagne business. Since 1932 Champagne Taittinger has grown and taken its place among the great Champagne houses, commanding a bold innovative style particularly influenced by Chardonnay. Having bought back the family business in 2006, Pierre-Emmanuel Taittinger has surrounded himself with a team that is both young and bound together by a spirit of attainment and permanence. His daughter Vitalie and his son Clovis have accompanied him on this adventure.
I was able to find one of the special "Disco" bottles of Nocturne, which hit the market in 2014, but you can still find a few bottles, worth the hunt. The wine is comprised of 40% Chardonnay, 35% Pinot Noir and 25% Pinot Meunier and receives a bigger dosage adding some residual sugar, weight and complexity to the Champagne, still on the dry side, but labeled "SEC". The wine is a non-vintage blend from about 30 different base wines from multiple harvest years, carefully blended to maintain Taittinger's "house" style. The wine was aged in the bottle for 4 years on its lees before disgorgement. I noticed a nice bright yellow color and immediately a bouquet of baked apples and sweet spice filled my glass. The bubbles are fine and plentiful with a foam mousse, amplifying the handcrafting that went into the wine. The taste was rich in my mouth with flavors of apple, ripe strawberry and blackberry with yeasty notes. The Champagne was well balanced and had a nice structure, somewhat creamy with a touch of sweetness.  The finish was long in length and had mineral characteristics. Happy 4th, enjoy with someone special on the disco round!
Cheers!