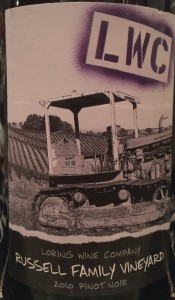 Loring Wine Company 2010 Russell Family Vineyard Pinot Noir
The Loring Wine Company is a boutique winery located in California's Santa Lucia Highlands. I met Brian Loring a few years ago at a private tasting and literally walked past his pricey screw top bottle until I engaged in a conversation with him. His philosophy on making wine is that the fruit is first and foremost. What happens in the vineyard determines the quality of the wine, that's why he is extremely picky when choosing vineyards to source grapes. Not only is Brian looking for the right soil, micro-climate, and clones, he is also looking for a grower with the same passion and dedication he has in producing great wines. Since most, if not all of the growers keep some fruit to make their own wine, he tells them to farm all acre(s) the same way, since they'll obviously be doing whatever is necessary to get the best possible fruit.
I recently opened the 2010 Russell Family Vineyard Pinot Noir (I had one bottle left tucked away in my cellar). When I met with Brian, we discussed his Stelvin Closure system and how it benefits his wine and its longevity. Pouring a glass I noticed a clear deep Ruby color, with aromas of concentrated berry fruits and earthy notes.  On the palate, the fruit still popped for a 2010, with blueberries and sour cherry flavors. The wine still had plenty of grip, soft tannins with earthy herb notes on the finish. The production was small, so if you can still find one grab it, you will be rewarded nicely.
Cheers!