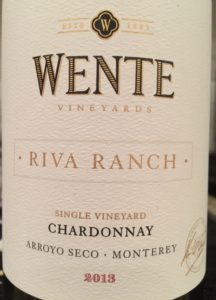 Wente Vineyards Riva Ranch Chardonnay 2013
The Wente Vineyards story began in 1883, when German immigrant, C.H. Wente made the voyage to America with the dream of creating a better life. After studying winemaking under Charles Krug in Napa Valley, he immediately knew he had discovered a passion and focus amongst the vineyards. He soon met and married Barbara Trautwein, and they moved to the Livermore Valley to pursue his new career. Unlike others of the time who started wine businesses as a hobby, C.H. Wente made his pursuit a lifelong commitment. His original 47 acres quickly grew to 200 acres before the constraints of Prohibition hit. To his seven children he was a father who emphasized hard work, but as he would say, "Work made life sweet." Fast forward to today, Fifth Generation Winemaker Karl D. Wente, pays homage to his family legacy by crafting a portfolio of wines that are 100% Estate Grown and Certified Sustainable.
Opening a 2013 Riva Ranch Chardonnay, the color is deep straw yellow with complex aromas of tropical and stone fruits with floral spices. The palate displayed flavors of lemons, peaches and vanilla oak along with minerality. The wine is buttery but not overdone. The medium finish ends with plenty of fruit flavor and light spice, acidity and a touch of spice at the end. Nice!
Cheers!