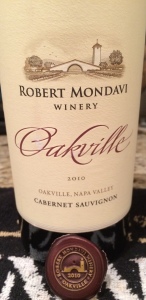 Robert Mondavi 2010 Oakville Cabernet Sauvignon
Robert Mondavi winery, located in Oakville, CA, makes a number of outstanding and consistent quality wines and established his winery in 1966 with a vision to have his Napa Valley wines to be among the world's finest.  Robert Mondavi also believed his wines should reflect its "roots" and be a signature creation from a combination of the soil, climate and production techniques, both new and old, which transforms the grapes into a fine wine.
Opening a bottle of 2010 Oakville Cabernet Sauvignon, I noticed a dark purple, almost inky color with blue and black fruit aromas.  The wine is a blend of 88% Cabernet Sauvignon, 7% Cabernet Franc, 4% Merlot & 1% Malbec and aged in French oak for almost 2 years.  The taste reveals complex blackberry and blueberry flavors with sweet spice, not quite jammy, but heading that way.  The wine was well balanced with good acidity and developed tannins.  This full-bodied wine finishes with an almost velvety ending.  Delightful!  This wine went great with a Fillet Mignon, topped with a light mushroom sauce.  Stay tuned for future notes on tastings of other Robert Mondavi's many winery offerings.
Cheers!