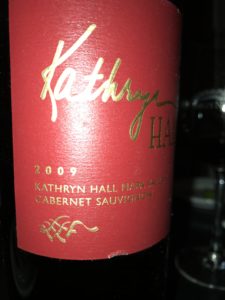 Kathryn Hall 2009 Napa Valley Cabernet Sauvignon
Kathryn Walt Hall is the proprietor of Hall Wines and has been involved in the California wine industry since her family first purchased a vineyard over thirty years ago. She has had a distinguished career as a successful businesswoman, community activist, and including a United States Ambassador to Austria. Kathryn Hall and her family have been grape growers in Mendocino County since 1972. The Walt family owns 63 acres of Cabernet Sauvignon, Gamay, Zinfandel, Cabernet Sauvignon and Sauvignon Blanc in the Redwood Valley and has sold their grapes to such wineries as Fetzer, Parducci and Beringer. Kathryn managed the family vineyard from 1982 to 1992. During this time she produced Sauvignon Blanc and Cabernet Sauvignon under the label Walt Vineyards. Continuing her family tradition, she maintains a strong emotional attachment to vineyards, wine and the wine country.
Craig Hall is chairman and founder of Dallas-based Hall Financial Group and along with his wife Kathryn, created a premier vineyard and winery company in the Napa Valley area. A life-long entrepreneur and investor, in addition to the vineyard and winery business, his professional interests today include real estate, venture capital, technology and hotels in the U.S. and Europe.
Kathryn Hall's 2009 Napa Valley Cabernet is magnificent. Dark red with inky edges. A blend of 80% Cabernet Sauvignon; 14% Merlot; 4% Petit Verdot and 2% Malbec, with aromas of ripe sweet berry fruit and hints floral and spice. On the palate cherry and sweet blackberry with complex flavors of cacao, spice, earthy notes and wonderful oak. Silky smooth tannins, great balance, lingering finish ending with oak and mineral notes. WOW!
Cheers!