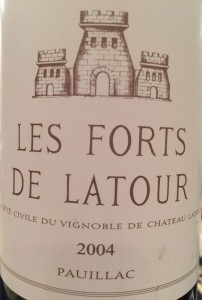 Les Forts De Latour 2004
Les Forts de Latour is the second wine of Chateau Latour, the First Growth Pauillac Bordeaux. Like Latour, Les Forts de Latour is owned by French industrialist Francois Pinault. Some 140,000 bottles of Les Forts are produced each year. It is typically 70% Cabernet Sauvignon and 30% Merlot and about one-third of the grapes come from young vines within the l'Enclos, which is the 116 acres just around the chateau. The rest of the grapes comes from much older vines outside the l'Enclos, meaning that Les Forts de Latour is made from a significant amount of old-vine cuvee. Les Forts is often highly rated by wine critics, and often noted that it is widely regarded as the finest of all the "second wines" produced.
Grabbing this 2004 from my cellar, I did have trouble with the cork. Although my storage conditions were ideal the cork was not stained, but did break and crumble a bit. I was getting nervous that the wine may have spoiled, but soon I learned it was delicious. The 2004 Les Forts de Latour is a blend of 74% Cabernet Sauvignon and 26% Merlot and displays a dark Ruby color with purple inky edges. The 2004 had concentrated welcoming fruit aromas with hints of herbs. The palate was very smooth and drinkable, fruit was still intense with sweet ripe berry fruits and currants, firm structure and balance with silky tannins and finishing long with some minerality and gentle cedar notes. Outstanding!
Cheers!