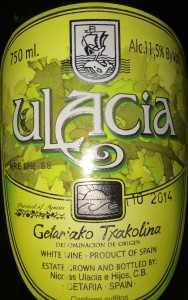 Ulacia Getariako Txakolina Blanco 2014
Ulacia Getariako Txakolina Blanco is a wine from the Getaria in the Basque Country of northern Spain, just west of San Sebastian, where wine here has a history going back 1000 years. Getaria is a fishing village on the Bay of Biscay, with Getariako Txakolina being the DO for the vine growing area around it. The region as a whole is maritime with a considerable Atlantic influence, though the vines are planted in the hills surrounding it, often on the southeast facing, on steep, un-terraced slopes for maximum sunshine and protection from sea breezes. The soils are largely clay, covered with sand. Txakolina is a style of wine, spelled "Chacolí" (pronounced "cha'-kō-lee") in Castilian, traditional to the Basque region. It's typically white, low in alcohol, with some effervescence, coming from being fermented slowly under refrigeration, and bottled with the slight bubbles. For all Txakolina, the primary grapes used are Hondarribi Zuri (white) and Hondarribi Beltza (red), which are two versions of the same grape. For Getariako Txakolina the required blend is 95% Zuri and 5% Beltza. This wine is made by a family run winery, Nicolas Ulacia e Hijos, which produces roughly 6,000 cases per year, largely for local consumption. The two grape varieties are vinified separately under refrigeration, blended and then bottled quickly enough that residual CO2 is retained in the bottle, which is sealed with a cork.
I was at a tapas restaurant and wanted to try something different so I selected the Ulacia Getariako Txakolina Blanco. The bartender opened the bottle and poured the wine with a typical spirits spout so as to get the wine aerated to release the bubbles. The color was a light pale yellow, with the faintest of small bubbles noted in the glass. Gentle aromas of ripe sweet stone fruits with hints of floral scents came forth. The wine was full of fruit, very fresh, stimulating my palate with lively acidity and dancing bubbles. The finish had a lemony edge with a touch of sweetness and paired well a bunch of different tapas. Put this on your "must try" list.  Merry Christmas from Sipping Fine Wine!
Cheers!