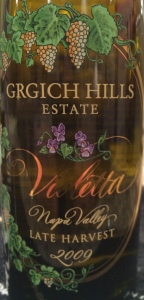 Grgich Hills Estate 2009 Late Harvest Violetta
Miljenko "Mike" Grgich first gained international recognition at the celebrated "Paris Tasting" of 1976.  Then, in a now-historic blind tasting, a panel of eminent French judges swirled, sniffed, and sipped an array of the fabled white Burgundies of France and a small sampling of upstart Chardonnays from the Napa Valley.  When their scores were tallied, the French judges were shocked: they had chosen the 1973 Chateau Montelena Chardonnay, crafted by Mike Grgich, as the finest white wine in the world.  Mon Dieu!  The results stunned the international wine establishment and immediately earned Mike a reputation as one of the greatest winemakers in the world.
After his victory in Paris, Mike sat down with Austin Hills and his sister, Mary Lee Strebl, from the Hills Bros. Coffee family, and on Independence Day 1977, they gave birth to Grgich Hills.  It was an ideal partnership.  Austin owned premium vineyards in Rutherford, in the heart of the Napa Valley, and with his extensive background in business, he put the winery on its financial feet.
Again 2009 became an ideal year for the appearance of Botrytis Cinerea (also known as Noble Rot) on the grapes, which is a beneficial mold that evaporates moisture while concentrating the flavor in the berry but yielding very little juice when the grapes are pressed. The grapes were grown at the American Canyon Vineyard, which is certified organic and Biodynamic.  In the lowest spot of this cool vineyard, the perfect conditions of low-lying fog is found to grow botrytis-affected grapes.  After fermentation the thick, rich juice, the wine is aged for 18 months in French oak to develop its subtle flavors and textures. The wine is a blend of Sauvignon Blanc, Riesling, and some Gewürztraminer.  Pouring a glass, aromas of rich ripe stone fruit, with citrus and honeysuckle notes were present. The palate revealed ever changing complex flavors of rich fruit, apple and stone fruits with hints of lemon and gentle oak and floral notes, lingering finish. Violetta is perfect with rich desserts. Only about 1000 cases of 375ml bottles were produced, so be sure to add this to your holiday table.
 Cheers!