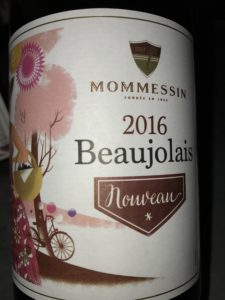 Mommessin Beaujolais Nouveau 2016
On November 17, 2016 wine aficionados across the U.S. celebrated the arrival of Beaujolais Nouveau. Since this French wine first came to the U.S. in 1982, Beaujolais Nouveau Day has been an annual celebration to honor the end of harvest and offer the first taste of the new vintage. Released at 12:01 a.m. on the third Thursday in November per French law, Beaujolais Nouveau is a bright, flavorful red wine made from the Gamay grape. As with most wine aficionados, I too am always anxious to join in on the celebration and try the new harvest upon release, I think it's fun to participate in this tradition. My wife and I stopped at a French restaurant, receiving an allocation of the wine flown from France, and enjoyed a few glasses in celebration of this day!
Heir to the Cluny monks, Mommessin has its origins in Southern Burgundy. In fact, it was at Grange Saint-Pierre, an old outbuilding of the Abbey of Cluny, that Jean-Marie Mommessin, the company founder, set up him and his wife in the business during 1865. The key of Grange Saint-Pierre later became the House's emblem. The acquisition of the renowned Clos de Tart in 1932 seals the House's establishment in the heart of Burgundy. Its head office later was transferred in Quincié-en-Beaujolais, after more than a century of presence in the Mâconnais. The next chapter in Mommessin's history is now evolving in the green hills, at the foot of Mount Brouilly, where the company's innovative spirit and open attitude continues to florish. Here their expertise and experience, steeped in Burgundian tradition, are transmitted through their wines.
Usually I am less than excited after drinking a bottle, however for the past two years I was delighted! Pouring a glass, I noticed a light Ruby red color (not as deep as 2015) and aromas of rich ripe red fruits. The palate shows Strawberries with some cherry sweetness. The full-bodied wine has fine tannins and balanced acidity, finishing with good length. Nice! At $10, a real bargain.  Grab a case and celebrate!
Cheers!