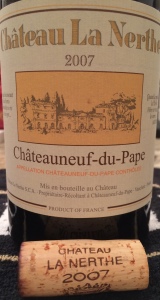 Château La Nerthe 2007 Châteauneuf-du-Pape
Château La Nerthe was born in the 12th Century around the time vines were first planted in the stone-strewn soil of Châteauneuf-du-Pape (literally the "Pope's new castle"), the place the pontiffs chose for their summer residence when the papel court relocated to Avignon.  The historic domains of Châteauneuf-du-Pape, Château la Nerthe, has always been graced by the attentive care of its successive owners: men of firm conviction, aristocrats, and notable experts on Châteauneuf-du-Pape, Marquis Tulle de Villefranche, Commandant Joseph Ducos and La Famille Richard, have all contributed to the reputation for excellence that La Nerthe has acquired and maintained.
Pouring a glass of this ruby red wine I noticed an elegant bouquet of fresh red fruit.  The wine is a blend of Grenache, Syrah, Mourvedre, Cinsault and Divers.  The palate shows red/black fruits raspberries, plums, cherries and blackberries and hints of leather, spice and black pepper.  Aged in oak, the wine was complex and elegant with smooth tannins on a nice finish.  Search for this one!
Cheers!