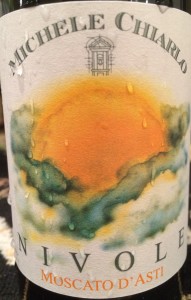 Michele Chiarlo 2013 Moscato d'Asti Nivole
Michele Chiarlo's extensive vineyards stretch over more than 272 acres of Piedmont, including the hills surrounding Canelli, which offer an ideal microclimate for growing Moscato. Grapes are hand harvested from select vineyards with southern exposure and placed in pneumatic presses, followed by a slow fermentation using natural yeasts to a low level of alcohol. Unfermented Moscato grape must is then added to fine tune the sugar levels. Finally, the wine is immediately bottled in order to preserve the characteristically aromatic, sweet fruit fragrance of the Moscato Bianco grape. The result is a wine with such a delicate finesse that Michele Chiarlo named it Nivole after the Piedmontese word for clouds.
Michele Chiarlo produces outstanding wines and their Moscato d'Asti Nivole is a great wine reasonably priced. Opening the bottle (375 ml) of the Moscato d'Asti, I immediately noticed a slight effervescence in a light golden yellow color. Aromas of sweet stone fruits and citrus filled my glass, along with a touch of floral spice. The palate shows flavors of sweet peaches and apricots with a grape-like tang. The finish is medium in length with some citrus and sweet spice nuances leaving with honey notes. Very nice!
Cheers!