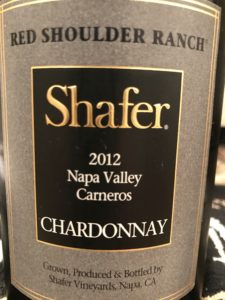 Shafer Red Shoulder Ranch Chardonnay 2012
Shafer Vineyards traces its beginnings to 1972 when John Shafer left a 23-year career in the publishing industry and, with his family, moved to the Napa Valley to pursue a second career in wine.  After purchasing a 210-acre estate in Napa Valley's Stags Leap District, the Shafer family faced the arduous task of replanting the existing vineyards, which dated to the 1920s, and terracing the steep and rocky hillsides, eventually expanding vineyard acreage to its current 50 acres.  From a modest beginning of 1,000 cases in 1978, the winery has grown steadily until reaching its present size of 32,000 cases of Cabernet Sauvignon, Merlot, Chardonnay, and Syrah. Please check out the Shafer Website and look at some of the fine recipes that Annette Shafer offers.
Red Shoulder Ranch Chardonnay is a wine that bears the elegant imprint of its vineyard home, 68 acres that roll across the pastoral hill country of Los Carneros, a place where Napa Valley meets the northernmost rim of San Francisco Bay. The vineyard is named to honor the Red-shouldered Hawks and other birds of prey that play a vital role in sustainable farming practices (in this case keeping gopher and other rodent populations naturally under control).
Vivid medium yellow color with aromas of tropical fruits and sweet floral scents. On the palate melon, pineapple and some peach flavors and hints of lemon citrus, delicate, complex and well balanced.  Lingering finish, savory, ending with mineral tones and nutty smoky oak. Outstanding!
Cheers!