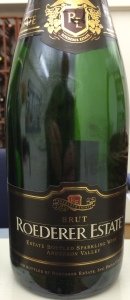 Roederer Estate Sparkling Anderson Valley Brut N.V.
Roederer Estate is the first California sparkling wine to be produced by Champagne Louis Roederer, further building upon a 200-year tradition of fine wine making from this family owned company.  Roederer's unique winemaking style is based on two elements: complete ownership of its vineyards and the addition of oak-aged reserve wines to each year's blend or cuvée.  The Roederer Estate is located 125 miles north of San Francisco near the Mendocino Coast, and since 1982 began developing its own vineyards and crafting wines.  The Roederer Estate Anderson Valley Brut made its debut in October 1988.  Anderson Valley offers a climate of warm days and cool nights and has well-drained soils which are ideally suited to the Roederer Estate's style of winemaking.  The Roederer Estate uses only Pinot Noir and Chardonnay grapes grown in its own vineyards.  In making the final Non-Vintage (N.V.) product, each year Roederer blends reserve wines, from its cellar, which have been aged in French oak casks, creating their signature style.  Such balancing of reserve wines to create a consistent wine from year to year demonstrates Roederer's winemaking skills.
Gently popping the cork (be sure to tip the bottle at 45 degrees and gently twist off the cork and making only a hiss of a sound so as not to bruise the wine) and pouring a glass (be sure to use a flute glass to get the most concentrated amount of bubbles) I see a deep pale lemon color with fine bubbles floating up. The nose was clean and lightly pronounced with aromas of honey and toast.  The wine is 60% Chardonnay and 40% Pinot Noir and was aged for a minimum of 2 years on its yeast.  The taste revealed a dry wine with medium acidity and body and flavors of baked apple and very subtle mineral notes.  The finish was pleasant and is an outstanding example of a Champagne style wine made in California.  If you are having a party you can get 2 bottles of Roederer for the price of 1 bottle of French Champagne, and most people will not detect a difference.  Grab some for the holidays which are just around the corner!
Cheers!