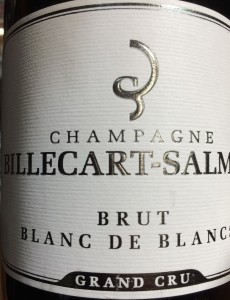 Champagne Billecart-Salmon Brut Blanc De Blancs N.V.
This is the last in a four-part tasting series from a private Billecart-Salmon Champagne event led by Billecart-Salmon Brand Ambassador, Clement Calleja, and in my opinion I saved the best for last. Today I am commenting on Champagne Billecart-Salmon Brut Blanc De Blancs N.V. Billecart-Salmon is a medium-sized champagne house in Mareuil-sur-Ay, France, near Epernay. Founded in 1818 with the marriage of Nicolas François Billecart and Elisabeth Salmon, it is one of the few to remain family owned.
Most all of the Champagnes produced undergo a process of Disgorgement (getting rid of the dead yeast from fermentation) and adding a Dosage, topping off the bottle with some reserve wine of the same type, called Liqueur d'Expedition, (shipping liqueur). The Dosage liquid consists of a mixture of reserve wine and very pure cane sugar. The quality of residual sugar in the bottled wine, (the remaining natural sugar from the grapes, and any sugar that is added) determines the type of Champagne. Most details of the dosage remains a secret of the house, but general guidelines would indicate the Brut Champagne has less than 12g per liter of residual sugars.
This Chardonnay cuvée comes from the five grand cru vineyards of the Côte des Blancs: Avize, Chouilly, Cramant, Mesnil-sur-Oger and Oger. It is a blend of two different years revealing the special quality of the Chardonnay. Pouring the Billecart-Salmon Brut Blanc De Blancs N.V. Champagne into a chilled glass (chilling the glass a bit with club soda and ice enhances the bubbles, but do not over chill the Champagne as cold hides the flavors, I recommend between 45 to 50 degrees), I noticed a nice pale golden yellow color, fine bubbles with a tantalizing mousse and observed an intense bouquet of ripe fruits and toasted scents. The palate shows creamy flavors of white flesh fruits, apples and pears, with chalky mineral qualities, lemons with an underlying sweetness. The wine was elegant, well balanced with bright acidity, minerality and lingering tangy finish. Outstanding! Champagne is a wine to enjoy at any time, just pop the cork!
Cheers!