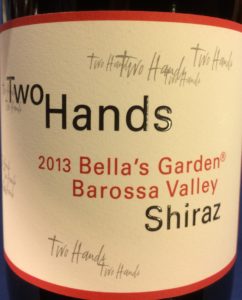 Two Hands 2013 Bella's Garden Barossa Valley Shiraz
This is the final installment from the private wine tasting where one of the Founders of Two Hands Wines, Michael Twelftree opened four of his wines and provided some in depth commentary on his wines and his winery. I already reviewed three of his wines and today I will talk about Bella's Garden Barossa Valley Shiraz.  Michael was generous enough to have his picture taken with me, see below.  Michael is the "good looking one" on the left!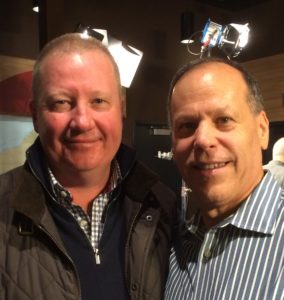 Michael thank you for spending time and sharing your vast knowledge of wine!
As I previously commented, Two Hands Wines was founded in early 1999 by Michael Twelftree and Richard Mintz, and the original aim shared by Michael and Richard was to make the best possible Shiraz-based wines from prized Shiraz growing regions throughout Australia. Today I am discussing Bella's Garden Shiraz (known as the "Garden" Series) where Two Hands sourced premium fruit from six of the finest Shiraz growing regions in Australia. Wanting to showcase the best Australian Shiraz growing regions, Michael Twelftree demonstrated regional quality within Australian Shiraz with his Garden Series. Bella's is a blend of Shiraz from across the Barossa Valley region and defined by its complexity and finesse. The label's color reflects the red soils of the Barossa's western ranges where all the best Two Hands vineyards are located. Michael was very generous in giving me a hand signed bottle to enjoy!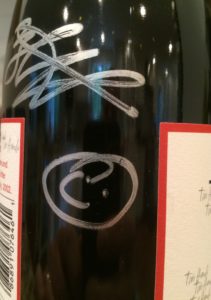 Pouring a glass, the 2013 Bella's Garden Barossa Valley Shiraz was a very deep Ruby with light red edges and aged for 18 months in French oak (17% new). Aromas of red and blue fruits and a touch of floral spice were noted with cracked black pepper in the background.  On the palate plum, cherry and blueberry flavors swirl around with some spice and creamy cacao. This full-body wine had velvety smooth tannins and a great mouthfeel. Well balanced, this is a wine that lingers with good length, and you just cannot stop and put the glass down! Truly an outstanding offering. Tasting Sample!
I will look to get "my two hands" on a bottle of their Flagship Wine, Ares Shiraz, and let you know how it tastes!
Cheers!