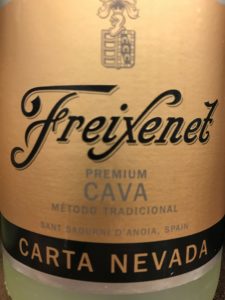 Freixenet Cava Carta Nevada N.V.
It's Valentine's Day, so grab a bubbly and share with someone special!
The first bottle of Freixenet was released in 1914, the creation of a couple named Pedro Ferrer & Dolores Sala who were both from winemaking families. In 1889, Pedro Ferrer married Dolores Sala, whose family had been making wine at their Casa Sala property since 1861. Pedro's nickname was "El Freixenet", named after his family's ranch "La Freixeneda", which means ash tree grove in Catalan. Dolores' keen interest in the winemaking process was easily complemented by Pedro's business savvy and sense of community. Their marriage coincided with the arrival of the Phylloxera plague in Spain, which wiped out most of Europe's vineyards. Far from being deterred, the couple replanted their decimated land with white varietals to make sparkling wine. In 1914, the first bottles were released with Pedro's childhood nickname on the label; Freixenet had been born. The Ferrer family continues to own and manage Freixenet today. See poster from the 1920's below.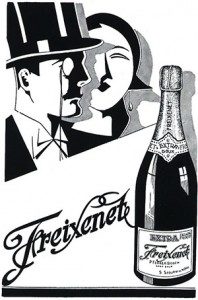 Popping the cork, and pouring the Cava into a chilled glass (chilling the glass a bit with club soda and ice enhances the bubbles) I noticed a nice straw pale yellow color and gave off a fruit forward style of peach, apple and citrus. Frothy mousse with small plentiful bubbles. Aged for up to 12 months, the Cava was well-balanced, full-bodied, crisp with zesty fruit, minerality, bread tones on a long finish. This is an outstanding, easy drinking sparkler, and presents an alternative to a pricy bottle of French Champagne. Exceptional!
Cheers!