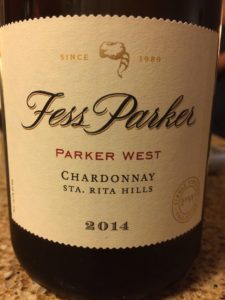 Fess Parker Sta. Rita Hills 2014 Parker West Chardonnay
The final installment of my recent trip to CA to visit my first born child and celebrating her birthday. We wanted to taste some great wines that cannot readily be obtained back east, so we visited Fess Parker Vineyards. Family run winery established in 1989 by the late Fess Parker.  Fess is best known for his portrayal of the frontiersmen Davy Crockett and Daniel Boone during the 1950's and 1960's and made him a legion among millions of adoring fans.  Fess Parker was originally from Texas, attended the University of Texas and did a tour of duty with the U.S. Navy during WWII and moved to California in the 1950's and began acting.  After his acting career was winding down, Fess, in 1986, opened a resort hotel in Santa Barbara on 23 ocean front acres.  In 1989 Fess' next adventure lured him to the Santa Ynez Valley's wine country and purchased a 714 acre ranch on what is now known as the Foxen Canyon Wine Trail.  Today, the Fess Parker Winery is still family owned and operated and celebrated its 25th anniversary in 2014.
The grapes come from a vineyard on the western edge of the appellation having a cool climate. Pouring a glass I see a soft pale yellow color with aromas of citrus, and stone fruit with a touch of floral notes.  On the palate the full fruit comes forth with delightful apple, pear, peach and citrus flavors, rich, full-bodied and buttery with just the right balance of acidity and oak, very elegant.  This 100% Chardonnay was barrel aged for 10 months in French oak (25% new oak, 25% 1-year old oak, and 50% 2-year or older oak).  The wine finishes with a soft touch of savory spice and oak.  This is an outstanding top shelf Chardonnay.  Only 8 Barrels of this Gem was produced, less than 200 cases! Grab a bottle if you can! Tasting Sample.
Cheers!