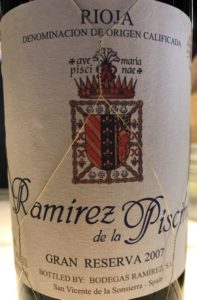 Ramirez de la Piscina 2007 Gran Reserva
The name Ramírez de la Piscina traces its lineage back to the Navarra Kings who fought in the First Crusade during the 11th century. Included among this noble ancestry is the famous Cid Campeador. The name is also strongly embedded in the small village of San Vicente de la Sonsierra, which is centrally located in the Sonsierra lands, in the heart of La Rioja Alta. Bodegas Ramírez de la Piscina elaborates its wines with grapes proceeding from its own vineyards located in Abalos and from other very carefully selected estates.
Aged for 24 months in American and French oak, and cellared for 36 months before release with grapes from its vineyards located in Abalos and other selected estates. Rich bright red with ripe berry fruit aromas and smoky spices. On the palate fresh ripe cherry and blackberry flavors with fine smooth tannins, leather and herbs on tangy acidity. The finish lingers ending with some oak, smoke and mineral tones. Drinks well now, but will continue to improve!
Cheers!