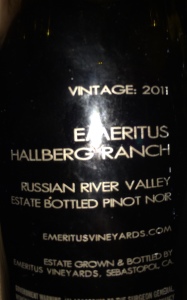 Emeritus 2011 Hallberg Estate Ranch Russian River Valley Pinot Noir
In 1999 Emeritus was born when Brice Cutrer Jones closed on the purchase of Don and Marcia Hallberg's prime apple orchard in the heart of the Russian River Valley.  The 115–acre parcel, the Hallberg Ranch, is located two miles north of Sebastopol, on both sides of the Gravenstein Highway and directly on the Gold Ridge, the ten-mile long ridge that bears the name of the predominate soils of the area.
Pouring a glass of Hallberg Pinot Noir, which production is aimed primarily for the restaurant business, I noticed a dark cranberry color with aromas of sweet spiced cherries.  The palate shows remarkable ripe red fruit flavors, soft oak, spice and sight mineral notes.  The wine shows lively acid with good balance and a firm finish that lingers nicely.  An absolute joy to drink.
Cheers!