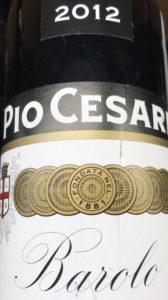 Pio Cesare 2012 Barolo
The Pio Cesare Winery was founded in 1881 by Cesare Pio.  He was one of the very first wine producers to believe in the great potential and quality of Barolo, Barbaresco, Barbera and in the other great wines of Piemonte.  Cesare Pio in the second half of the 1800s, was among the very first winemakers to produce these wines with a philosophy that was dedicated to the terroir and the strictest quality of the wine.  For five generations, the Pio Cesare family has been producing traditional Piemontese wines in its ancient cellars, located in the center of the town of Alba.  The cellars walls date back to the Roman Empire period, 50 B.C.  Recently, significant investments have been made to rebuild and restructure the cellars and the winery's facilities.
Pio Cesare owns more than 50 hectares (130 acres) of vineyards, located in the most highly rated and better exposed areas.  Within the Barolo region, the "Ornato" Estate and the "Colombaro" Vineyard (in Serralunga d'Alba), the "Gustava" Estate (in Grinzane Cavour), the "Roncaglie" (in La Morra) and "Ravera" (Barolo-Novello).  In addition to its own vineyards, Pio Cesare has fostered long-term relationships with growers for several generations and manages all aspects of viticulture in these vineyards.  These growers have been selling grapes to the family for generations.  The production of the wines of Pio Cesare is intentionally limited in order to maintain their high quality.  Year after year, the wines are ranked among the world's best and most highly regarded.
Opening a 2012 classic Barolo of 100% Nebbiolo grapes, I decanted it for 60 minutes before giving this young wine a taste, although the 2012 season was difficult, Pio Cesare did well!  The Barolo was aged in French Oak for 3 years!  Rich deep ruby with a full bouquet of fresh dark berry fruits and herb notes.  On the palate, cherry, plum and minty flavors, some licorice and cacao as well, great balance with young tannins.  Complex lingering finish ending with nice earthy notes, a delight to drink now, but more time will benefit.
Cheers!