Louis Latour – Puligny-Montrachet AC 2014 & Puligny-Montrachet Sous Le Puits 2014
I recently went to a private wine tasting where Louis Latour's Northeast Regional Manager, Andy Fruzzetti, opened TEN wines, 5 red and 5 white, as well as providing some awesome in depth commentary on the wines and winery. I will review these wines over the next several posts with some history and observations, stay tuned! Pictured below is yours truly with Andy after the tasting.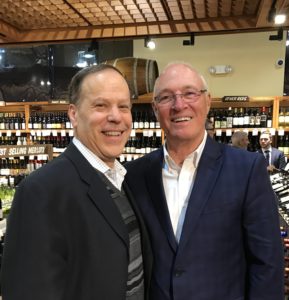 The Louis Latour family first bought vines in the Cote de Beaune in 1731, with land in some of the top Burgundy vineyards. Cooperage was already at that period a family occupation. Home to some of the world's most extraordinary Chardonnays including the famous Montrachet, Chevalier-Montrachet and Bâtard-Montrachet, Puligny-Montrachet is the 216 hectare geographical middleman of the white wine villages, bordered by Meursault to the north and by Chassagne-Montrachet to the south. According to the history books, the village of Puligny gained its name from Puliniacus, a Gallo-Roman military encampment. The Montrachet aspect was added in the last century to stress the consistently excellent quality of the wines produced in the local vineyards.
Puligny-Montrachet AC 2014
Aged for about 10 months in French oak (15% new). Vibrant lime yellow with citrus and floral notes, elegant nose. On the palate ripe apple and mineral notes with a very light touch of wood. Nice acidity balance ending with a whiff of smoky notes. Very Enjoyable, about 1800 cases made!
Puligny-Montrachet Sous Le Puits 2014
Aged for about 10 months in French oak (50% new). Light yellow with big aromas of stone fruits and nutty citrus notes. On the palate apple and pear flavors with bits of lemon rind, fresh and crisp, complex with mineral and wet stone on the lingering finish. Very Nice, about 300 cases made. Put this one in the cellar for a few years, you will be rewarded!
Cheers!