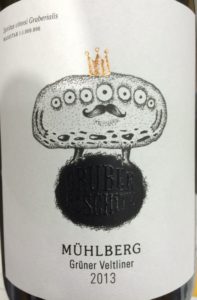 Ewald Gruber Grüner DAC Muhlberg 2013
At the age of 16, Ewald Gruber senior then decided to turn the farm into a model winery. He wanted to become one of the leading winegrowers – passionate and using the latest technology available. Despite the fact that he is retired now, he still looks after the vineyards together with his son Christian. His wife Hermine does the bookkeeping. The Gruber Family Winery has been growing wine in Röschitz since 1814. Until the middle of the last century, the wine was grown almost solely for private consumption. And this passion is contagious. Three of his six children took over the winery in 2012. And then there are the "Wine Spirits", (notice the label), the mascots of the Grubers. What are they? Micro-organisms for natural pest control; yeast which induces fermentation; the little children of Bacchus and the fauns ensuring joy and pleasure? Nobody knows, but the Gruber's love them.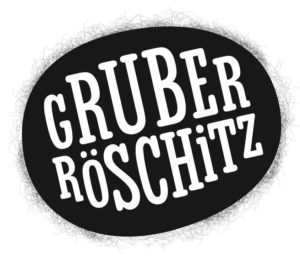 I attended a private tasting given by Franz, pictured below, and tasted 4 of his wines. The wine were all great and I will comment on his reserve Mühlberg 2013 Grüner Veltliner, a rich and beautiful wine from the oldest Gruber vineyard located near Hundspoint. Franz was very knowledgeable about the wines and was a pleasure to speak with.  Thank you Franz for the opportunity to taste your wines.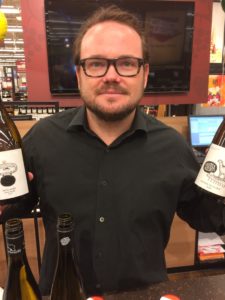 Golden yellow color with aromas of tropical fruits and hints of aromatic scents. On the palate melon, banana and kiwi flavors with undertones of apple and pear, very complex. A full-body white with good balance and acidity. To me it appears that the wine had a bit of oak aging, but I forgot to ask Franz. The wine finished with a mineral citrus tang on a long ending. Very Nice!
Franz, maybe next on your next trip you can bring a bottle of Trockenbeerenauslese Chardonnay to try.
Cheers!