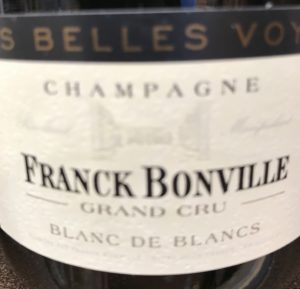 Franck Bonville Grand Cru Les Belles Voyes Blanc de Blancs N.V.
Franck and his wife Jeannine after the second war commercialized the first bottles of champagne from a vineyard already connected on the lands of Avize and Oger for over twenty years. Today, Giles and his wife Ingrid Bonville, together with their son Olivier spend time tending to the operation of the winery, including updating and modernizing the facility. Their goal is to grow grapes of the highest quality and produce great wines which are fresh, delicate and elegant. If you read the label, you will see the words "Récoltant Manipulant" or "RM" on the bottle of Franck Bonville, which means that the grapes are grown on the Estate, the Champagne is produced at the Estate and the Champagne is bottled at the Estate. The grower has full control over the quality of the wine from the vineyards to your glass. If you search well, and are an informed Champagne lover, sometimes these Champagnes cost less than the "big" guys, reason, NO marketing budget. For example Franck Bonville Brut only costs $35 as compared to Veuve Clicquot at around $45 (No "RM" on Clicquot label). The quality between the 2, does not compare.
The "Belles Voyes" is one of the best Blanc de Blancs I have tasted, made from the less than 2 acres Belles Voyes vineyard in Oger, from vines planted in the late 1920's, with juice aging in old casks before bottling. Compares to those $350 boutique bottles! Showing 100-year old vine complexity, wonderful aromatics fine bubbles with a tantalizing mousse an intense bouquet of ripe fruits. The palate shows creamy flavors of white flesh fruits, apples and pears, with chalky mineral qualities, lemons with an underlying sweetness. The wine was elegant, well balanced with bright acidity, minerality and lingering tangy finish. Enjoy the 4th!
Cheers!