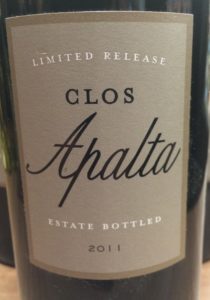 Lapostolle 2011 Clos Apalta (Limited Release)
Lapostolle was founded by Alexandra Marnier Lapostolle and her husband Cyril de Bournet in 1994. The Marnier Lapostolle family, founders and owners of the world-renowned liqueur Grand Marnier, is famous for producing spirits and liqueurs, but the family has also been involved in winemaking for generations. In creating Lapostolle, the family has pursued the same uncompromising approach to quality that made Grand Marnier a global success. Its objective is simple as it is ambitious: to create world-class wines using French expertise and the superb terroirs of Chile. Lapostolle is distributed in more than 60 countries around the world.
Recently Charles de Bournet Marnier Lapostolle, CEO of the Lapostolle Winery, held a private wine tasting in CT and we tasted 4 of his wines: Sauvignon Blanc, Canto de Apalta, Cuvée Alexandre and Clos Apalta. See photos, Charles is the one on the right with yours truly. All of the wines were outstanding and I will discuss his premier wine, Clos Apalta. Charles, thank you for taking time to share stories and information.
One of Chile's finest premier wines. Dark and deep inky purple red. A blend of 57% Carmenère, 34% Cabernet Sauvignon and 9% Merlot and aged in 100% new French oak, the wine displays aromas of ripe concentrated red fruit with sweet spice. The palate has flavors of plum, raspberry and cherry and notes of figs, vanilla and mocha. Complex structure with round velvet tannins that are long lasting on the finish and ending with some espresso notes. Tasting Sample.
Cheers!