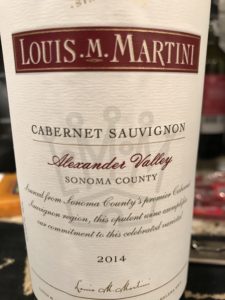 Louis M. Martini Cabernet Sauvignon Alexander Valley 2014
In 1900, at age 13, Louis Martini emigrates from his native Genoa, Italy to the U.S., where he joins his father, a fisherman, in San Francisco.  In 1906, Louis makes his first wine alongside his father, who wisely sends him back to Italy to hone his craft and study winemaking at the university in Alba (Piedmont). In 1911, Louis returns to CA where he makes his first martini wine. In 1922, Louis forms the L.M. Martini Grape Products Company, producing sacramental and medicinal wine in the Prohibition-era. In 1933, Louis puts down roots in Napa, one of the original 5 wineries founded in 1933 after Prohibition. In 1933, Louis forms the Napa Valley Vintners Association. In 1952, Louis crafted his first luxury Cabernet, with a practice that continues today. In 1953, Louis P. takes over for his father, and in 1977, Mike Martini steps into the leadership of the family winery. In 2002 the Gallo family purchases the winery.
A blend of 98% Cabernet Sauvignon and 2% Petite Sirah, aged 16 months in 50% new French and American casks, a big wine that is very approachable for a 2014. Dense Ruby with black fruit aromas, earthy herb scents and soft spice. On the palate sweet fruits, cherry and currants, with licorice, tobacco and cacao notes on soft tannins, very well balanced. Lingering finish ending with earthy wood characteristics, very nice and has lots of room for cellaring. Only 11,000 cases so I bought a few bottles to set down, check back in a few years!
Cheers!