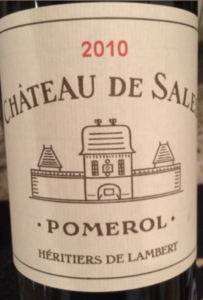 Chateau De Sales 2010 Pomerol
Chateau de Sales, situated in the Right Bank appellation of Pomerol, is an estate with a long and prestigious history. Owned by the same family for over 500 years, the chateau is the largest in Pomerol with 47 hectares of vines. The soil of Chateau de Sales is characterized by an omnipresence of iron oxide, called "crasse de fer" locally, which gives the wine a distinct personality. The majority of aging for Chateau de Sales wines takes place in traditional concrete tanks, spending only 6 months in oak barrels, to preserve the wine's qualities of freshness, fruitiness and terroir expression. Chateau de Sales has been in the same family hands since 1464. This probably sets a record in Bordeaux for continuous ownership of a chateau. In 1464, Bertrand de Sauvanelles agreed to rent and manage the estate. It has remained in the same family hands for close to 6 centuries! The Chateau was created in the early 1600's, which was also quite rare for Pomerol at the time as the region has never been the home to the type of grand chateaux found in the Left Bank. In fact, the chateau for de Sales is one of the few, true, regal chateau in the Pomerol appellation. Chateau de Sales did not become a working Bordeaux vineyard until some in the late 1700's.
This Right Bank Bordeaux is bright Ruby red, from a blend of Merlot, Cabernet Sauvignon and Cabernet Franc. Fresh red fruit aromas, with complex spice. On the palate concentrated flavors of blackberry and cherry with hints of plum, some cacao, tobacco and licorice notes. This wine shows oak and mineral tones with smooth tannins and great balance. Lingering finish, smooth, with complex ending. Best to consume on the younger side, no real benefit from long-term aging.  A great wine that is reasonable priced to drink now.
Cheers!