Louis Latour
Corton-Charlemagne Grand Cru 2009 & Chateau Corton Grancey Domaine Latour 2009
I recently went to a private wine tasting where Louis Latour's Northeast Regional Manager, Andy Fruzzetti, opened TEN wines, 5 red and 5 white, as well as providing some awesome in depth commentary on the wines and winery, picture with yours truly below. These are the last two of the 10 wines tasted, they were all great! Check out the March 31, 2017, April 4, 2017, April 7, 2017 and April 11, 2017 posts for additional pictures.  Many thanks Andy for sharing your wine and wine knowledge.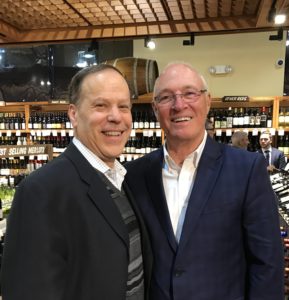 After the ravages of the phylloxera epidemic at the end of the 19th century the Latour family took the then unusual decision to tear up the dead Aligoté and Pinot Noir vines and replace them with Chardonnay. This decision leads them to create one of Burgundy's most celebrated white whites. Today the Latour family owns 11 hectares which makes them the biggest owner in the appellation. The Latour's Corton-Charlemagne vineyards are located on a prime section of the Corton hillside where the south-easterly aspect ensures maximum exposure to the sun. The fruit is harvested as late as possible to guarantee maximum ripeness.
 "Grancey" was the name of the last owners of the chateau situated on the road of Corton, before the Latour family bought it in 1891. This wine, produced by Maison Louis Latour, is unique and exclusive. It is a blend of four areas of Domaine Latour Corton Grand Cru: Les Bressandes, Les Perrières, Les Grèves and Clos du Roi, the proportions of which vary depending on the vintage. The average age of the vines is over 40 years. After aging individually, only the best barrels are assembled to create the Château Corton Grancey. It is a wine that is produced only if the grapes are of a perfect maturity, vintages judged inferior are systematically declassified.
Corton-Charlemagne Grand Cru 2009
Aged for about 10 months in French oak barrels (100% new), medium toasted. Golden color with aromas of bright stone fruits with a nutty touch. On the palate, rich fruit flavors with round oak notes, great mouthfeel. Full, well balanced finish with vivid acidity, lingering, ending with mineral tones. Outstanding! Will continue to get better! Tasting Sample!
Chateau Corton Grancey 2009
Aged for about 12 months in French oak (35% new), medium toasted. Deep Ruby with rich ripe red fruit and earthy spice. On the palate, round fruit flavors of cherry and strawberry, with sweet spice, oak and espresso notes. Very graceful tannins on a long lingering finish with mineral notes and hints of spice on the ending. Very Nice, keep in the cellar for a few more years! WOW! Tasting Sample!
Cheers!