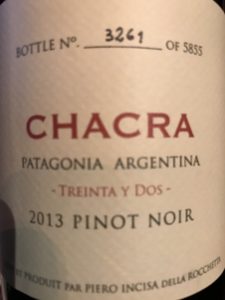 Chacra Treinta y dos Pinot Noir 2013
Bodega Chacra is located in the Rio Negro Valley of northern Patagonia, 620 miles south of Buenos Aires, 1,240 miles north of Tierra del Fuego, and roughly equidistant west to east from the Andes Mountains and the Atlantic Ocean. The property's situation in the arid central Argentine desert is tempered by the convergence of the Neuquen and Limay Rivers, both of which flow from the Andes and join the Rio Negro, which in turn flows into the Atlantic. Acquired in 1932, Piero Incisa della Rocchetta, grandson of Sassicaia's creator was born in Tuscany, making wines in Argentina, also purchased two other old vine Pinot Noir vineyards which began producing other Bodega Chacra single-vineyard wines in 2006. In mid-2005, ground was broken for a new winery at the site of the 1932 vineyard.
I recently went to a Private Equity Wine Tasting Gala, where over 100 top shelf wines were offered, too many to taste as they were all exceptional! Deep Ruby, aged for 24 months in French oak barrels (30% new), has aromas of sweet fresh red fruits and spring floral notes. On the palate big flavors of cherry and strawberry with gentle spice. Well balanced with savory fine tannins, a powerhouse of flavors. Lingering finish ending with notes of fruit. Has room to age. Tasting Sample.
Cheers!