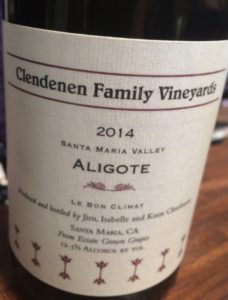 Clendenen Family Vineyards Aligoté 2014
I recently took a trip to CA to visit my daughter to celebrate her birthday and wanted to taste some great wines I cannot readily get back east. We visited Au Bon Climat, and I was introduced to some of Jim Clendenen's, (the "Mind Behind" Au Bon Climat since 1982), projects of passion that allow him to make artisan, small lots of distinctive wines from a wider spectrum of grape varietals under different brands, for example his Aligoté. There are few legacy wineries in America. A legacy winery is a winery where the owner is committed to the future, thinking long term, taking actions and making plans not for themselves but for their children's children. Clendenen Family Vineyard is just that, a bequest to Jim's children so that they pass it along to their children. Jim has often dreamed of having a small winery where commerce was not the driving force. Instead, a dream to have the luxury to keep wines long in barrel should they need it, red wines that will last generations, firm wines with firm acidities, wines that are for their purpose food-friendly, and moderate alcohol, these are among his reference points for this production.
Straw yellow with stone fruit and light floral aromas. The wine was aged for 10 months on older French oak. On the palate, pear and peach flavors with lemony nuances, slightly tart with a mineral elegance. On the medium finish slight oak tones are present ending with liberal minerality. Very nice!
Cheers!