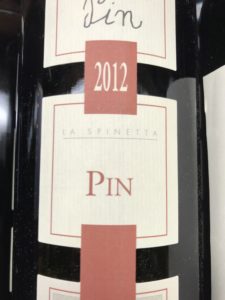 La Spinetta Pin 2012
The Rivetti family story begins in the 1890's, when Giovanni Rivetti, left Piedmont for Argentina. Like many Italians then, he dreamed of returning a rich man, perhaps even one day able to make great wine in his homeland. He never did, though his son, Giuseppe "Pin" did. Pin married Lidia, bought vineyards and began to make wine. In 1977 the family took up residence at La Spinetta (top of the hill) in Castagnole Lanze, it was the heart of the Moscato d'Asti country. But the Rivettis believed that Moscato had the potential for greatness and set out to prove it by making Moscato Bricco Quaglia and Biancospino.
Eventually though the family's vision was even grander. In 1985 La Spinetta made its first red wine, Barbera Cà di Pian. After this many great reds followed: In 1989 the Rivettis dedicated their red blend Pin to their father.
A blend of 65% Nebbiolo and 35% Barbera d'Asti Bionzo, dark red with complex aromas of dark fruit and smoky spice. On the palate cherry, plum and raspberry flavors with smoky oak and earthy pepper notes. The wine spends about 18 months on French oak, and 15 months resting in the bottle before release. Lingering finish, soft tannins, well balanced with acidity ending with earthy mineral tones.
Cheers!