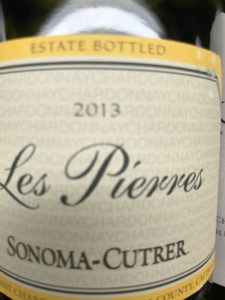 Sonoma-Cutrer 2013 Les Pierres Chardonnay
I first became acquainted with Sonoma-Cutrer during a Sonoma wine tasting event in the 80's and met Brice Cutrer Jones.  When I tasted his Chardonnay, in a word, outstanding, one of the best I have tasted, but that was a while ago.  The Sonoma-Cutrer Russian River Ranches Chardonnay was my "go-to" Chardonnay until about the time Brice Cutrer Jones was no longer associated with the winery.  In 1999, Brown-Forman, the Kentucky-based drinks giant acquired Sonoma-Cutrer, and 2 years later fired Brice Cutrer Jones.  Since Brice's departure, the Chardonnay was good, but not "outstanding".  I have tried several vintages throughout the early 2000's and was not impressed and the style changed a bit from a richer Chardonnay with layered flavors to more of a single dimension wine lacking depth and complexity.  For a time Brown-Forman put on a screw top and recently went back to cork (not for all of their offerings).  Although I have tried and commented on premium "screw top" wine, there is something magical about pulling out a cork when serving wine.  Try ordering a screw top wine in a fine restaurant, it's almost comical when the waiter opens the wine and really doesn't know what to do!  One waiter actually gave me the cap to smell!
Opening the Sonoma-Cutrer 2013 Les Pierres Chardonnay (their premium Chardonnay), I noticed aromas of stone and citrus fruits with oak spice. The wine was crisp with apple, pear and lemon zest, good balance with toasty oak, nice but not complex. Good length on the finish ends with sweet mineral tones. You should also visit the Sonoma-Cutrer website as they have a bunch of interesting recipes you can download and try.
Cheers!