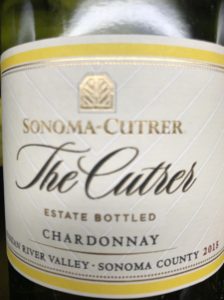 Sonoma-Cutrer The Cutrer Sonoma Chardonnay 2015
I first became acquainted with Sonoma-Cutrer during a Sonoma wine tasting event in the 80's and met Brice Cutrer Jones. When I tasted his Chardonnay, in a word, outstanding, one of the best I have tasted, but that was a while ago. The Sonoma-Cutrer Russian River Ranches Chardonnay was my "go-to" Chardonnay until about the time Brice Cutrer Jones was no longer associated with the winery. In 1999, Brown-Forman, the Kentucky-based drinks giant acquired Sonoma-Cutrer, and 2 years later fired Brice Cutrer Jones. Since Brice's departure, the Chardonnay was good, but not "outstanding". I have tried several vintages throughout the early 2000's and was not impressed and the style changed a bit from a richer Chardonnay with layered flavors to more of a single dimension wine lacking depth and complexity. Recently they have been producing a better product.
Trying their "The Cutrer" Chardonnay, I noticed aromas of fresh fruits and notes of sweet spice. Aged for 13 months in French oak (25% new), flavors of apple, pear and citrus come forth, with a creamy texture. Vivid acidity, well balanced with slight oak on the finish, ending with vanilla spice tones. You should also visit the Sonoma-Cutrer website as they have a bunch of interesting recipes you can download and try.
Cheers!