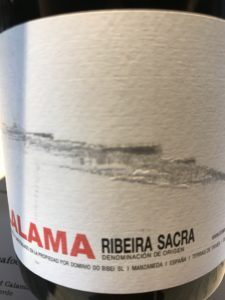 Dominio do Bibei Ribeira Sacra Lalama 2012
Dominio do Bibei is located in the Quiroga-Bibei sub zone of the Ribeira Sacra D.O. Like all Ribeira Sacra sub zones, this area is one of spectacular mountain ranges and rivers, but it is drier and harsher than the others. Javier Dominguez is the brainchild of this crazy adventure to recapture a once grand vineyard. Javier's vision is reflected in the winery and its simple design. Gravity rules. There are no stainless steel tanks; wood or cement are the vehicles of choice and they come in all the different sizes. The idea is to return to the past to rediscover what was once here. The wine maker Laura Lorenzo has similar ideas. She follows many of the ideas of biodynamic viticulture to obtain the purest expression of this terruño. Planted on these terraces are old vines of Mencía, Garnacha, Brancellao and Mouraton. The sites vary greatly because of the orientation of the plots and the soil types. Because this is a transition zone which touches Valdeorras, there are soils of slate, granite and clay interspersed among the hillsides.
A blend of 90% Mencia, 10% bend of Brancellao, Mouraton, Souson, and Garnacha, and aged for 14 months in French oak. Light Ruby with aromas of fresh young fruits with sweet herbs and floral scents. On the palate light fresh fruit flavors of red berry fruits with balanced spice, oak and acidity, soft tannins. Lingering finish ending with flinty mineral tones and earthy herb spice.  Very nice, let this one age for a few and it will be spectacular!
Cheers!