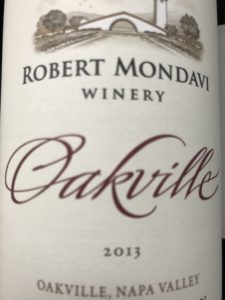 Robert Mondavi 2013 Oakville Cabernet Sauvignon
Robert Mondavi Winery, located in Oakville, CA, makes a number of outstanding and consistent quality wines and established his winery in 1966 with a vision to have his Napa Valley wines to be among the world's finest.  Robert Mondavi also believed his wines should reflect its "roots" and be a signature creation from a combination of the soil, climate and production techniques, both new and old, which transforms the grapes into a fine wine.
Oakville Cab has an alluring dark purple, almost inky color with loads of blue and black fruit aromas. The wine is a blend of 81% Cabernet Sauvignon, 13% Cabernet Franc, 2% Merlot, 2% Petit Verdot & 2% Malbec and aged in French oak (72% new) for almost 2 years. The taste reveals powerful complex flavors, blackberry and sweet plums with sweet spice, oak and earthy notes. Well balanced with good acidity and big developed tannins.  Full-bodied finishes smooth ending with cacao and wood spice.  Delightful!  This wine went great with a USDA Prime Fillet Mignon, skillet seared and oven roasted.  Keep an eye for future tasting notes on other Robert Mondavi's many winery offerings.
Cheers!