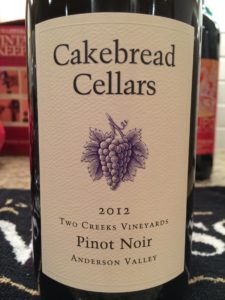 Cakebread Cellars 2012 Two Creeks Vineyards Pinot Noir
Over 30 years ago, Jack Cakebread came to photograph the Napa Valley for a book and while there, he casually mentioned his interest in one day owning a vineyard to some family friends who had a ranch in Rutherford. When he returned home that afternoon, the phone rang and it was the family friends offering to sell their property. He headed back up to the valley that same afternoon to make his best offer, and Cakebread Cellars was born. Today, the winery owns 13 sites totaling 982 acres, 460 of which are currently planted. The Cakebread Website is full of interesting information and loaded with recipes, lots of great recipes, so be sure to check out the website, you won't be disappointed.
I recently had a 2015, thought it needed more time so I searched for an older vintage and found a 2012, their debut vintage of Two Creeks Pinot Noir. A blend from 2 different Vineyards (43% Apple Barn & 57% Annahala) and aged for 10 months in French oak (38% new). Aromas red and dark berry fruits with complex, soft earthy spice notes. On the palate juicy cherry and strawberry flavors, rich and complex with a great mouthfeel, integrated spice and oak. Smooth tannins with good balance with acidity on a lingering finish, an outstanding wine that I would have to say is perfect now!
Cheers!