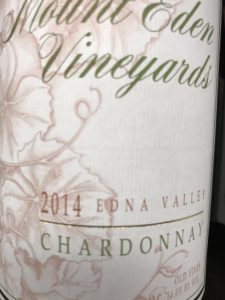 Mount Eden 2014 Edna Valley Chardonnay
Mount Eden Vineyards is a small wine estate perched at 2000 feet overlooking Silicon Valley in the Santa Cruz Mountain Appellation, about 50 miles south of San Francisco, founded in 1945. Mount Eden's lineage of estate bottled Chardonnay and Pinot Noir is the longest in California. Planted in austere, infertile Franciscan shale on a cool, exposed mountaintop, these low-yielding estate vineyards have consistently produced great wines for over a half-century. In 2007 Mount Eden acquired an additional 55-acre wine estate in the Saratoga foothills, which was christened Domaine Eden.
Opening a bottle, the color is a bright golden straw with aromas of stone and tropical fruits with some floral spices. On the palate crisp pear and lemon zest with a touch of sweet floral spice. Nicely balanced with acidity, the finish is about medium and ends with citrus mineral notes. Drink now for its freshness! Great value on this Chardonnay!
Cheers!