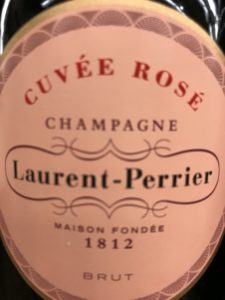 Laurent-Perrier Cuvée Rose Brut N.V.
Founded in 1812, Laurent-Perrier has been crafting Champagnes for nearly two hundred years, making it one of the largest family owned brands. Located in the northeastern region of France, the Champagne region has one of the coolest possible wine producing climates, which is moderated by the Marne River and the region's proximity to the ocean. Laurent-Perrier is based in the picturesque village of Tours-sur-Marne – an ideal location at the intersection between Champagne's three foremost sub-regions: Montagne de Reims, Vallée de la Marne and Côte des Blancs.
The Cuvée Rosé from Laurent-Perrier is the most recognized rosé champagne in the world. It is also one of the few rosés still made by the saigtnée method (juice and skin contact). Held in an elegant bottle inspired by King Henri IV, it has been widely acknowledged for its consistent high quality for more than 40 years, and it is the benchmark for rosé champagne around the world.
Made with 100% Pinot Noir from 10 different "crus " (or villages), from the North and South areas of the Montagne de Reims, as well as the famous Cote de Bouzy. Deep pink with big aromas of berry fruit and citrus mineral notes wrapped in a delicate mousse. On the palate raspberry and strawberry, bright acidity with spicy notes and orange zest. Lingering silky finish, earthy mineral character on yeasty finish.
Cheers!