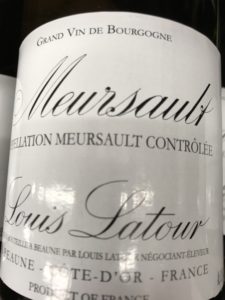 Louis Latour Meursault 2013
The Louis Latour winery was the first purpose-built cuverie in France and remains the oldest still-functioning. A unique railway system with elevators allows the entire wine-making process to be achieved by the use of gravity. This eliminates the threat of oxidation from unnecessary pumping of the must. Situated just south of Volnay and Pommard in the Côte de Beaune, Meursault is the most extensive southerly white wine commune of the Côte-d'Or. The perfect south-easterly exposure and the stony, marl soil contribute greatly to the remarkable finesse of which the wines of Meursault are capable. Typical Meursault tend to be very full, mellow wines and mature somewhat sooner than the wines from the neighboring communes of Puligny and Chassagne.
Aged for about 10 months in French oak (15% new). Vibrant pale yellow with citrus, earth and floral notes, elegant nose. On the palate, ripe apple and earthy mineral notes with a very light touch of wood, almost buttery sweet. Nice acidity balance ending with a whiff of nutty smoky notes, lingering. Very Enjoyable! Tasting Sample.
Cheers!