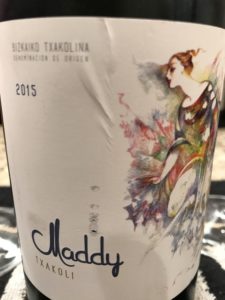 Maddy Txakoli Bizkaiko Txakolina 2015
Who is Maddy? Maddy is a Mythological Goddess from the Basque Country and has appeared in local rural legends since time immemorial. She is a deity with a woman's body and face, who is described as attractive and elegantly dressed. She is said to be able to fly over the peaks of the mountains, where she lives and from which she foretells and ordains the climate. As the Queen of Nature, she wields her magic over the earth, the wind, the sun and the water, decisively influencing the quality of the harvest. Maddy captures the best qualities of the Ondarrabi Zuri variety of grape. This local grape is the soul of Txakoli (pronounced "chah-kuh-lee"), characterized by its freshness and velvety acidity, combining the best of the harvests of three historic producers: Berroja, Gurrutxaga and Virgen de Lorea.
Very unique and exciting wine to drink, clearly distinguishable from other Txakoli's. Light color with aromas of white flesh fruits, citrus and floral scents. On the palate, apple, lemon/orange and melon flavors with grassy notes, floral and lively acidity. Smooth, easy drinking, went well with Red Snapper I served, topped with balsamic broiled tomatoes. Lingering finish ending with mineral notes. Grab this refreshing summer treat!
Cheers!